Medical Assistant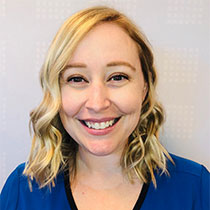 My name is Cyndi and I am one of the three Medical Assistants for Team Baldauf. I was born in Orange County, California. But, my family and I moved to Las Vegas when I was 14 years old, and I have been here ever since. I married my husband, Patrick, 10 years ago and are the proud parents of two wonderful kids.
In 2005, I attended the College of Southern Nevada. Prior to joining Baldauf Orthopaedic, I worked as a Medical Assistant in pain management. I've been with Team Baldauf since 2016, and it has been a truly amazing experience. It is relieving to work with a doctor who honestly cares about his patients and what is best for them. Not only do I enjoy working with Dr. Baldauf, but also with the entire Team. We joke, we laugh they are my extended family.
I feel like good work ethic is such a rarity these days. I am so fortunate to be working with people who genuinely care about the patients, as well as their coworkers. When it becomes challenging, everyone chips in to get things done because it's the right thing to do for the patients. I look forward to all the great things to come for our Team!