PA-C, Physician Assistant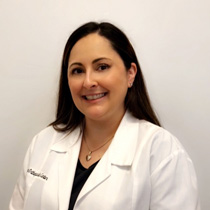 I was born and raised in Southern California. I attended and received my Bachelor's degree in Exercise Science in 1998 from the University of Southern California (USC). After undergrad, I furthered my education by attending the Southern California University of Health Sciences (formerly known as Los Angeles College of Chiropractic), where I graduated Magna Cum Laude, earning my Doctorate in Chiropractic degree. Graduate school was also where I met my husband.
During the period that I was practicing as a Chiropractor, I also taught part-time at the Chiropractic College in several fields-Anatomy, Physiology, Clinical Orthopaedic and Neurology, and Adjusting Techniques. Although I greatly enjoyed the field, I felt that I would be a better asset to my patients by enhancing my skills in medicine. Therefore, I went back to school and earned a Master's in Physician Assistant Studies from Western University of Health Sciences. After graduating in 2008, my husband and I decided to relocate to Las Vegas.
Initially, it was a difficult decision to move since both my husband and I are native Californians. Prior to actually making the move, I had applied and was accepted at several practices, including Orthopaedic Surgery. However, after a lengthy discussion with my husband, I opted to accept an offer in a Family Medicine Practice. After five years and the desire to further expand my medical knowledge, I resigned and transitioned to an Internal Medicine Practice.
During my years in Family Medicine and Internal Medicine, and again although I was very happy, in my subconscious, I always regretted not going into Orthopaedic Surgery. When the opportunity arose again, I decided to seize it. The prospect ofjoining Baldauf Orthopaedic was terrifying because I felt as if I was stepping outside of my "comfort zone." After working as a Chiropractor, in Family Practice Medicine, and Internal Medicine, I found that working in Orthopaedics would allow me to utilize that many more tools to benefit my patients.
I have been so blessed to have the opportunity to work in this field and to work for Dr. Baldauf. I love the fact that I can see near-immediate positive results after a patient's procedure and watch them gain their confidence and their lives back. Working with Dr. Baldauf has been an amazing experience. He is a gifted and talented surgeon who actually cares about his patients' health. He always strives to do what is best for his patients to ensure they gain back their independence and improve their quality of life.
Finally, when I'm not busy buzzing around for work, I love to spend time with my fabulous husband, our two Dobermans (Sheba and Dozer) and our two cats (Vader and Tonkers).
Associations
American Academy of Physician Assistants
American Academy of Orthopaedic Surgeons
Nevada Academy of Physician Assistants
I have been so blessed to have the opportunity to work in this field and to work for Dr. Baldauf. I have learned (and continue to learn) so much from him because of his extensive experience and patience. Not only is he the best surgeon (no bias intended), but he truly cares for our patients' well-being and not just the 'bottom line.